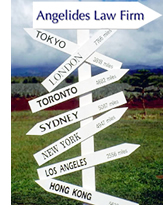 The Angelides Law Firm has clients all around the country.
Many of our clients come from Springfield, Chicopee, Westfield, West Springfield, Ludlow, Agawam, Holyoke, East Longmeadow, Wilbraham, Pittsfield, Great Barrington, and northern Connecticut.

If you are an employer, services can be provided ON SITE. Please call or email for further information.

Directions:
MA: South on 91, exit 1, Longmeadow. at the 3rd light make a left, this is Converse St. AT THE END OF THE ST. IS A STOP SIGN, THE OFFICE IS ON THE LEFT.

CT- take 91 North, exit 49, Longmeadow, turn right and continue until you pass the CVS on the left, the next light is Converse St. take a right. Follow the directions above.

SPFLD- take Dickinson so until the end, make a left this is Converse Street. Follow the above directions.

Bus:
Available on the B-5 bus line. The office is on the corner of Dwight and Converse Streets.
Office Location
1200 Converse Street
Longmeadow, MA 01106
Offie. 413-567-2911
Cell. 413-265-5448
Fax. 413-567-2958
Email: marie@angelideslaw.com
http://www.youtube.com/angelideslaw